BRAD LIVINGSTONE, RPH
1908 E. 4th Ave.
OLYMPIA, WASH 98506
PHONE (360) 491-0607
1-800-455-6888
FAX (360) 491-0629
Email: info@soundcompounding.com
Website: randyscompoundingpharmacy.com


THIS IS FOR WASHINGTON STATE DENTISTS ONLY
IF YOU ARE OUT OF STATE, PLEASE GO TO HANDOUT #7B

To order Randy's compounded Suck-cess product, it is necessary to order it for
your patient by prescription only. If you agree that this Suck-cess is appropriate for
your patient, you must complete the prescription form below, sign it and FAX the
form back to Randy's Pharmacy. If you have any questions, concerns or comments,
call Brad on his doctor's line at (360) 412-0365 between 10 a.m. and 4 p.m.,
weekdays or FAX him your concerns.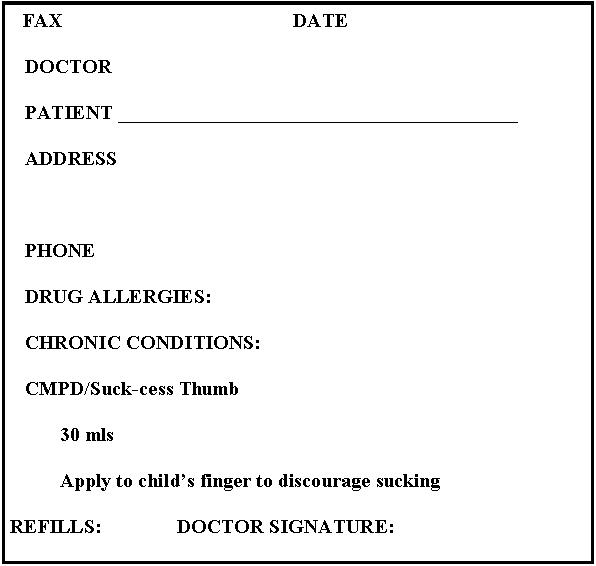 IN ADDITION TO THIS FORM, YOU MUST SUBMIT AN ORDER FORM (SEE HANDOUT #7)

We are a Natural Compounding Pharmacy and Nutrition Center. We customize
medications and nutrition to fit the needs of individual pateints. If there is anything
else we can make for you or your patients, please let us know. Thank you for your
support.
---
Go back to Office Handouts Page